San Francisco, California
Commercial Cleaning Services
We offer unbeatable rates and highly skilled professionals that are here to help you clean up your office.
Our growing business is made up of skilled professionals who have dedicated their lives to bettering the community. As a group of trained workers, we offer businesses incredible deep cleanings that will enhance any office space. As a team, we work together to provide our clients with the best experience possible. We are licensed and insured, meaning, our professionals will be responsible for any possible accidents that could occur while on the job. We want you to feel at ease with our team in your space!
We will accommodate your business as best we can when cleaning your property. We can avoid a specific product while using another one that you suggest, we can work around your business hours if it can be arranged, and we will be sure to deep clean every area you need. We are fast, efficient, and affordable! Don't trust just anyone with the cleanliness of your business, call Queen & Clear Royal Solutions!
Queen & Clear Royal Solutions
What Will We Clean?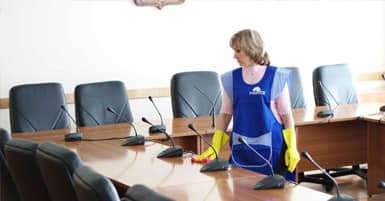 A janitorial position can be taken on for offices in your business. We will clear out trash bins, wipe down computer boards, dust desks, vacuum the local area, and sanitize common touchpoints like doorknobs, computer mouse, and so on. If there are specific requests for glass windows in an office or allergies to any products our team should be told immediately. We will ensure that your desk, floor space, chairs, and doors are clean.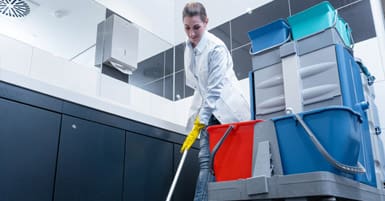 Commercial Bathroom Cleaning
 In many businesses, the one place everyone is sure to visit at some point is the bathroom! This alone makes the area a breeding ground for bacteria and viruses that can quickly and easily spread from the bathroom's surfaces to a healthy host. Keeping a clean bathroom guarantees happy customers and happy employees who will certainly call out less due to illness. Bathroom sanitation and disinfecting are extremely important in today's world and we will make sure that it is done thoroughly. We will clean:
Inside and outside of the toilet

Mirrors

Sinks

Bathroom vanities

Floors
Commercial Floor Cleaning
 Neither clients nor employees want to walk on a surface that is dirty, sticky, or stained. Having a clean floor is an easy way to score a good first impression on members of the community and potential clients. Our team will help clean up your floors or carpet by removing odors, stains, and other issues that stick around when floors are properly maintained. We will:
Mop

Sweep

Vacuum

Deep clean carpets

Scrub
Queen & Clear Royal Solutions
Benefits of Hiring a Professional Cleaning Service
We are meticulous, thorough, and dependable.
An office desk can have more than 400 times the number of germs found on a toilet seat! This means having your office cleaned by professionals is much more than an aesthetic need, it is a health must. Cleaning the environment in which your employees mingle on a daily basis will ensure that illnesses are not spread leading to much more productive work weeks with fewer callouts. Hygiene is important, we will help your office maintain high standards of cleanliness and health.
Have you ever walked into a commercial space that just seems stuffy and heavy? This is possibly due to dirt particles, debris, and dust in the air and on the surrounding surfaces. Without properly cleaning an area stuffy air is unavoidable and can create serious allergic reactions for clients and employees. Improving your air quality will automatically lead to better business outcomes and happier employees! This is quickly and easily achieved by hiring a professional cleaning service.
Better and Safer Workplace
Keeping a clean and healthy work environment will prevent germs, bacteria, and viruses from spreading, keeping your business safe for employees and clients alike. When your work environment is clean you have an opportunity to make fantastic first impressions on both potential future employees and/or potential future clients, investors, suppliers, and visitors alike. Overall, a clean work environment is the best way to have the highest return on all of your professional investments.
Are you looking for a professional cleaning service?
Get in touch with our team today to get started on a new, improved, and clean business space.
Queen & Clear Royal Solutions
San Francisco Office Cleaning
Take the first step by calling our office
Queen & Clear Royal Solutions is a team of professionals who have many years of experience. Our employees undergo extensive training, background checks, and checkups throughout their employment with our company. Every one is bonded and insured, they are experts in their field, they are honorable, and they are dedicated to completing every project to the best of their abilities.
Our team will perform the basic cleaning rounds like emptying trash bins, cleaning desks, wiping down common areas, cleaning floors, and disinfecting bathrooms. For deep cleans please be specific about your requests and let us know exactly how we can satisfy your needs.
We offer affordable services to all of our clients and consistent rates for returning ones! For more information about all of our services please give our professionals a call.