Queen & Clear Royal Cleaning Solutions
Don't waste any more time on something we can fix quickly.
Have you ever read the same sentence more than once and realized you had to read it again because you just keep missing its purpose? That is what happens when clients attempt to clean their homes on their own when they are moving out! Why waste time, energy, and resources trying to clean a space and move out of it at the same time when Queen & Clear Royal Cleaning Solutions can take care of half of that for you.
Our professionals are extensively trained, undergo meticulous background checks, and are bonded/insured. As a growing company, our number one goal is to keep our clients and our employees safe at all times.
If you're looking for a team that can make your transition from one home to another a little easier, we're the ones you've been looking for. Give our professionals a call today to learn more.
Queen & Clear Royal Cleaning Solutions
What Do We Clean?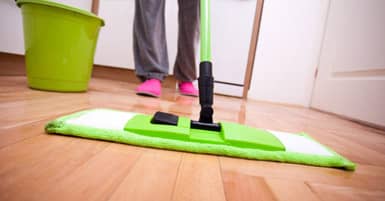 When you first move your dresser or your bed, you're going to find things you either never realized you lost or things you had hoped you'd thrown away. Our team will vacuum, sweep, mop, and remove all of the dust, dirt, and debris that has accumulated in the hidden places that are discovered as you move large pieces of furniture. We will clean windowsills, corners, ceiling fans, and more. We will be sure to leave every bedroom feeling, smelling, and looking brand new once your belongings have been removed. We will clean:
Corners

Closets

Ceiling fans

Light switches

Windowsills

Windows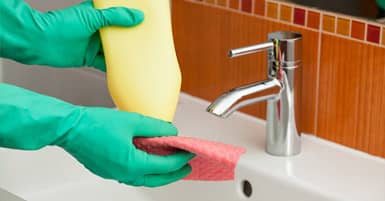 New tenants nor potential tenants want to see a dirty bathroom. We have specialized bathroom cleaning products and equipment that will leave toilets shining, bathtubs glowing, and vanities sparkling. Our team is detail-oriented and will not forget the sinks, faucets, and light switches in any one of your bathrooms! All you have to do is pack-up and remove your personal belongings. We will be sure to sanitize and disinfect:
Toilets including rims

Floors

Bathtubs

Faucets

Sinks

Vanities

Show heads

And more!
 Removing and packing up your kitchen and your living area, like your dining room and living room, can be daunting enough without the added stress of having to clean thoroughly as you go. We will be sure scrub and wipe down areas that look like they need it and even ones that don't! Our team is very thorough and will leave all of the main areas looking and smelling brand new. We will clean:
Sinks

Countertops

Floors

Ceiling fans & lights

Switches

Windows & windowsills

Shelves

Under the sink

Refrigerator

And more!
Benefits of Hiring a Professional Cleaning Company
Hire a move-out company to come clean and watch how much quicker the process goes!
Moving is stressful even if you're the calmest person in your family. Juggling different aspects of your life while moving all of your belongings from one space to another brings out the worst in people. Hiring a professional team can help lighten the load you feel like you're carrying by simply allowing you to focus on moving and those details alone. The peace of mind we bring cannot be beaten! Concentrate your energy on moving your life and not picking up after the old one.
Have you been renting an apartment? Hiring us to come to clean your apartment thoroughly can guarantee that your deposit is refunded! If there are no other issues with your space, our cleaners will leave the apartment better than ever and there would be no reason for you not to leave without your deposit in your pocket. We will be sure to leave the space spotless and it will pass any white glove inspection.
As professionals, we use only the latest technology, cleaners, and techniques when digging deep into your home. Our team is highly trained and will not miss or waste time overly cleaning one are because we work quickly and efficiently. Our professionals know what techniques and equipment are necessary when cleaning new areas around your home and they also know when issues like stains are possible to be removed and when to move on. We will work efficiently, and we will be sure to cover the entire house! We are affordable and efficient.
Are you looking for a professional cleaning service?
Get in touch with our professional team now to learn more about all of our services.
Queen & Clear Royal Cleaning Solutions
Don't take on more stress than you need too.
Moving is a stressful time even for the best of us and for good reason! Moving your belongings and creating a new home within new walls can be daunting. Queen & Clear Royal Cleaning Solutions is here to help ease your difficulties by offering affordable rates for move-out cleaning services. We will come to your home once your furniture and belongings have been removed and clean what is left behind. We will remove dust, dirt, and debris from the deepest corners in your house so the next tenants can enjoy a fresh start. As a dedicated team, we want to help our clients moving out of the home and the new tenants coming in both enjoy the benefits of a clean interior.
All of our professionals are skilled workers with integrity and hard-working traits that make them the best in the business. For more information please give our professionals a call!